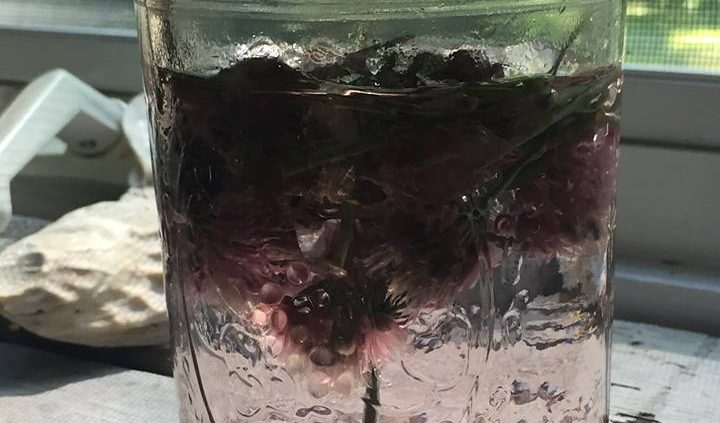 ---
INGREDIENTS
20 chive blossom heads (I bring a pint jar in to the garden and add them there until packed lightly)
White wine vinegar, enough to cover the blossoms
---
DIRECTIONS
Bring the jar filled with blossoms in to the kitchen and wash well. Do this 2-3 times to get rid of any little bugs and soil.
Pat the blossoms dry with paper towels, then place in jar, lightly packed.
Pour vinegar over blossoms to cover. Screw on the lid and place in a sunny window to steep for 2 weeks. The vinegar will blush to a beautiful pink!
I use the blossoms as well as the vinegar. I chop them and add them to the Chive Vinaigrette (see below).
---
Chive Vinaigrette
Ingredients
¾ cup olive oil
¼ cup chive vinegar
1 teaspoon Dijon mustard
S&P
1 tsp of finely diced chive blossoms
Directions
Pour everything into an empty jar, screw on the lid, and shake vigorously to emulsify.
https://nautipaco.com/wp-content/uploads/2017/04/chive-blossom-vinegar.jpg
960
720
NatashaPACO
https://nautipaco.com/wp-content/uploads/2016/03/Nauti-Paco-logo.png
NatashaPACO
2017-04-05 19:29:09
2017-04-05 19:31:12
Chive Blossom Vinegar