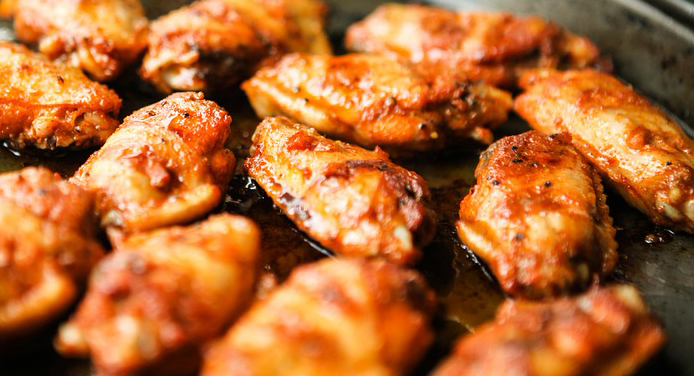 ---
INGREDIENTS
12 oz Franks Original Hot Sauce
8 oz butter
2 oz Tabasco
1/2 Tbsp fresh ground pepper
2 Tbsp honey
1/2 Tbsp fresh oregano
1-2 Tbsp Worcestershire sauce
1 tsp red pepper flakes (to taste)
8-16 wings
---
DIRECTIONS
Set a small sauce pot on low heat and melt all ingredients (except chicken). This is your sauce for the wings.
Fill a deep fryer with vegetable oil and heat to 365° F.
Deep fry wings (5-10 wings per person) for 12-14 mins (the longer, the crispier).
Every 3 mins or so, shake the wings around so they get done evenly and don't stick together.
Your deep fryer should come with a screen or a basket strainer, place that on-top of the wings for about 10 mins, then take the wings out and strain in
basket strainer.
Remove wings and place in a bowl with about 1 tbsp of sauce per 4 wings.
Cover wings completely with sauce, and eat with blue cheese, carrots and celery
https://nautipaco.com/wp-content/uploads/2018/02/buffalo-chicken-wings.jpg
376
694
NatashaPACO
https://nautipaco.com/wp-content/uploads/2016/03/Nauti-Paco-logo.png
NatashaPACO
2018-02-07 20:06:08
2018-02-07 20:10:46
Buffalo Chicken Wings