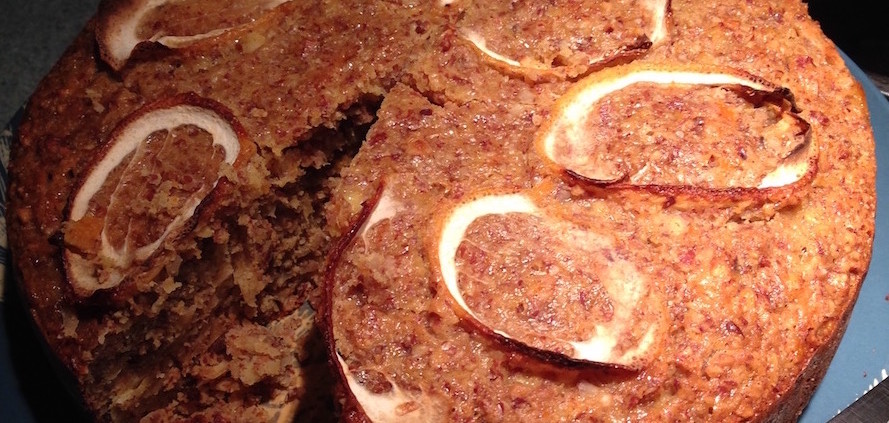 ---
INGREDIENTS
5 whole ORGANIC oranges

1 ORGANIC lemon (mandolin sliced)

6 eggs

1 cup plus 2 tablespoons sugar

2 1/3 cups ground almonds

1 heaping teaspoon baking powder
---
DIRECTIONS
Preheat the oven to 375°F.
Put the oranges in a pot with cold water to cover, bring to the boil, and cook for 1.5 hours. Drain and when cool, cut each orange in half and remove the seeds. Then finely chop the skins, pith and fruit in the processor.
Butter and line an 8-inch springform pan with parchment paper.
Beat the eggs. Add the sugar, almonds and baking powder. Mix well, adding about 1/2 of the chopped oranges. (Reserve the other 1/2 for frosting). Add mandolin lemon slices and julienne the thicker bits.
Pour the cake mixture into the prepared pan and bake for 40 minutes, remove and cover the cake with foil, bake an additional 15 minutes or when a skewer will come out clean;  Remove from the oven and leave to cool.
---
ORANGE CREAM CHEESE FROSTING:
4 ounces butter, softened

4 ounces cream cheese, softened

2 tbs vanilla sugar -OR-

1 teaspoon vanilla extract & 1 tbsp sugar

2 boiled and chopped oranges
In a large bowl, beat together the butter and cream cheese with a fork. Add the oranges and blend well. Spread on cake.
https://nautipaco.com/wp-content/uploads/2016/03/OrangeAlmondCake-1.jpg
734
889
NatashaPACO
https://nautipaco.com/wp-content/uploads/2016/03/Nauti-Paco-logo.png
NatashaPACO
2016-03-10 22:33:34
2016-05-20 00:08:43
ORANGE ALMOND CAKE