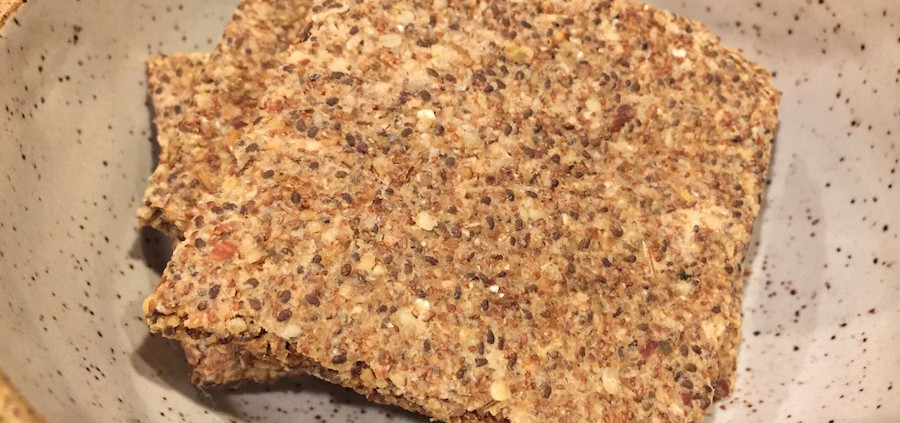 ---
INGREDIENTS
1 cup certified gluten-free rolled oats

1 cup mixed nuts (I like the salted ones, crush )

1/2 cup each: flax seeds, sesame seeds, pumpkin seeds, hemp hearts, chia seeds

1-2 cups of water, just to mix all ingredients together like dough (not too wet)
---
DIRECTIONS
Grab a large mixing bowl. I use the Nutri-bullet to pulse the nuts until they are crushed but have not turned into nut butter, add to the bowl. Do the same with the seeds or leave them whole, up to you. Slowly add water to the bowl and mix to get a doughy-like consistency, not too wet. 
Preheat oven to 300°F convection if you have it or 350°F regular oven.
Grab a flat baking sheet (no sides) and cover with parchment paper, spread mixture evenly then place on the middle rack for 20 mins. Pull tray out and cut rectangles so they look like attached picture. Place back in the oven for 50-70 mins. You want the bread to dry out, similar to crackers.
In Summer I store the Knekkebrød in the fridge.
https://nautipaco.com/wp-content/uploads/2016/03/Knækbrød.jpg
675
900
NatashaPACO
https://nautipaco.com/wp-content/uploads/2016/03/Nauti-Paco-logo.png
NatashaPACO
2016-03-09 23:24:38
2016-05-20 00:09:42
Knekkebrød