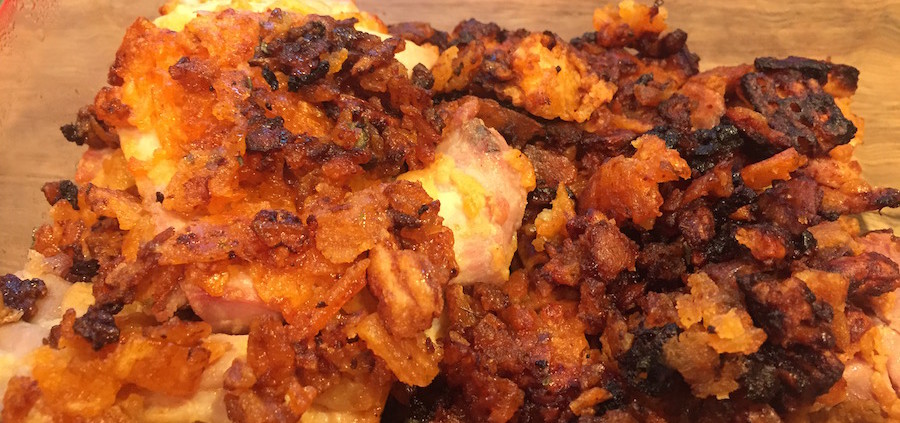 ---
INGREDIENTS
4-5 boneless skinless thighs
1 bag potato chips
Kosher salt and freshly ground pepper to taste
1/4 teaspoon cayenne pepper
1 1/2 teaspoons paprika
1 tsp granulated garlic
1/4 cup grated parmesan cheese
Mix together:
1 cup plain yogurt
2 tbsp Franks hot sauce
2 tablespoons dijon mustard


---

DIRECTIONS

8 hours before or overnight: Marinate the chicken in the yogurt/hot sauce/dijon mixture then refrigerate until time to cook.

Preheat the oven to 425 degrees. Place a rack in a roasting pan or on a baking sheet.

Crush the chips into a mixing bowl then add all other dry ingredients, mix well.

Dredge the chicken pieces in the chip mix then arrange them on the rack and place in the hot oven. Cook for 15 to 20 minutes, lower the heat to 375 degrees and cook for another 25 to 30 minutes, until cooked through and crispy. The juices should run clear when the meat is pierced with a knife.
https://nautipaco.com/wp-content/uploads/2016/03/Potato-Chip-Chicken.jpg
675
900
NatashaPACO
https://nautipaco.com/wp-content/uploads/2016/03/Nauti-Paco-logo.png
NatashaPACO
2016-03-06 17:19:50
2016-03-10 22:27:09
Crispy Baked 'Fried' Chicken