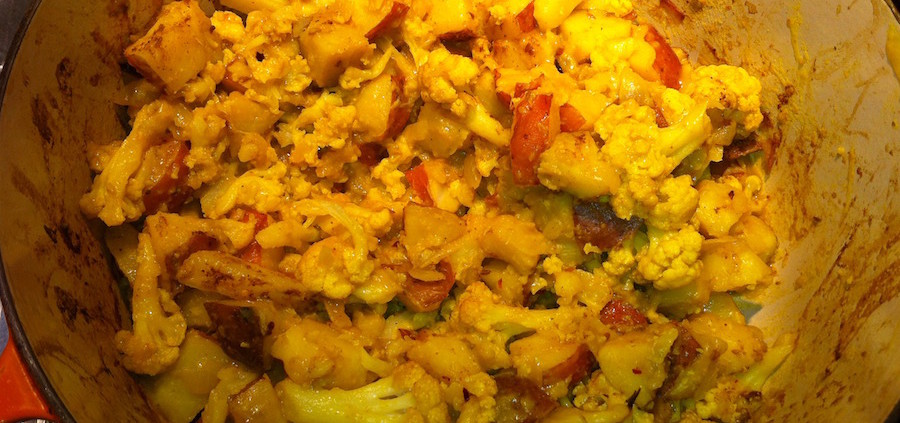 ---
INGREDIENTS
1 large head cauliflower
1 large or 2 small onions
4 medium aloo (potatoes)
1 tsp whole jeera (cumin seeds)
1 tsp jeera powder (cumin powder)
1 tsp dhania powder (coriander powder)
1 tsp haldi (turmeric)
1.5 tbsp julienned ginger or ginger paste
1 tbsp butter
olive oil
salt
---
DIRECTIONS
Preheat oven to 375°F convection. Use large dutch oven.
Roast onions with jeera seeds. Add other spices and mix well. Add aloo, gobi and ginger mix and roast for 10 mins.
Add butter and 1/4 cup water. Cover and bake for 20 mins. Make sure it's not sticking, if it is add more water, no more than 1/4 cup.
Remove lid (so it doesn't become mushy) and bake for an additional 15 mins, or until gobi and aloo are tender.
xoxoxoxox mama
https://nautipaco.com/wp-content/uploads/2016/03/Aloo-Gobi.jpg
672
900
NatashaPACO
https://nautipaco.com/wp-content/uploads/2016/03/Nauti-Paco-logo.png
NatashaPACO
2016-03-12 19:27:49
2016-05-20 00:08:01
Aloo Gobi (Potato + Cauliflower)